**DVD received for consideration. All thoughts are my own.
In the sequel to DreamWorks Animation's Oscar®-nominated blockbuster comedy, the Templeton brothers—Tim and his
Boss
Baby
little bro Ted—have become adults and drifted away from each other. Enter new
boss
baby
Tina with a cutting-edge approach and can-do attitude that is determined to bring them together again...and inspire a new
family
business
.
BONUS FEATURES ON 4K ULTRA HD, BLU-RAYTM, DVD AND DIGITAL:
ALL-NEW ORIGINAL SHORT "PRECIOUS TEMPLETON: A PONY TALE" - In this original DreamWorks animated short, Precious Templeton has entered the Perfect Pony Pageant in hopes of winning top prize. Just as the winner is about to be announced, the crown jewels are stolen. What will they do now? Find out in this hilarious original short.

GAG REEL

DELETED SCENE – "Time Out" with introduction by Director Tom McGrath.
NEVER GROW UP: THE BIG BABIES BEHIND THE

BOSS

BABY

:

FAMILY

BUSINESS

– Get behind the lens with cast and filmmakers as we uncover how The

Boss

Baby

:

Family

Business

came to life. Dive deeper into the inspirations for each character and see what it took to bring this animated feature to life.
"TOGETHER WE STAND" LYRIC VIDEO – Sing along with Tabitha as she performs "Together We Stand," in this whimsical lyric video.
ROLL CALL – Meet the voices behind the babies as we take a cast roll call of The

Boss

Baby

:

Family

Business

.

Alec Baldwin –

Boss

Baby

(Ted)

Amy Sedaris – Tina

James Marsden - Tim

CREATIVE EXPERIMENT LAB – Schools in Session! Join us in the creative experiment lab to become a scientist in your own home. Hosted by James Marsden (voice of Tim), we'll teach you everything you need to know to pass science class with flying colors.

Potato Power

Volcano To Go

Plastic Fantastic

BOSS

BABY

ART CLASS: HOW TO DRAW – Ever wondered what it would be like to be an animator? Get a firsthand look at how to draw your favorite

Boss

Baby

at home with this fun drawing tutorial. Hosted by Catherine Rader, one of the lead story animators of The

Boss

Baby

:

Family

Business

, you'll see step by step how to bring this big

baby

to life.

Boss

Baby

(Ted)

Tina

Precious Templeton

FEATURE COMMENTARY – Feature Commentary with Director/Exec. Producer Tom McGrath, Producer Jeff Hermann and Production Designer Raymond Zibach.


Get ready to party like a baby… a BOSS baby! Download your Boss Baby: Family Business Watch Party Kit right here: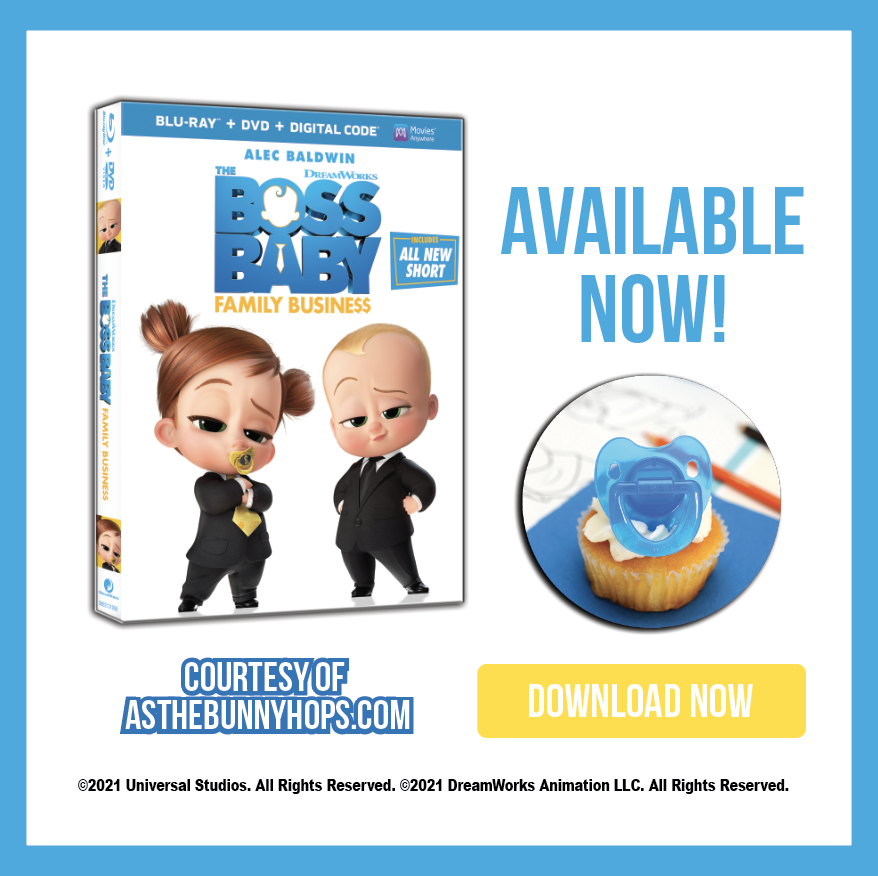 Welcome to
Baby
Corp! Aspiring
Boss
Babies will love this fun activity kit!
Website
:
https://www.uphe.com/movies/the-

boss

-

baby

-

family

-

business
Trailer
:
https://uni.pictures/

Boss

BabyFamilyBizTrailer
Facebook
:
https://www.facebook.com/thebossbaby
Twitter
:
@DreamWorks
Instagram
:
https://www.instagram.com/

boss

baby/
Hashtag
: #
Boss
BabyFamilyBusiness




If your children are anything like mine, they absolutely loved the first Boss Baby movie! Like seriously, could not get enough. I cannot tell you how many times my daughter has watched the original! Needless to say, she was absolutely thrilled to hear that they were coming back with a new one! While sequels don't usually live up to the hype, I have to say that both of my kids actually really enjoyed this one too! Did they love it quite as much? Maybe not, but it surely comes close! I love the unique take they took with this one bringing back the original characters--- all grown up, but making them babies again! That certainly added a fun new element to the movie and kept it interesting! They've already watched the movie several times, and I know it's one that they will again watch over and over. They ae also enjoying some of the fun special features that keep the movie fun going too! If you have a kid who loves Boss Baby, they don't want to miss this new movie!