Sixth-grader Peter (Fegley) is pretty much your average kid—he likes gaming, hanging
with
his friends and his beloved pair of Air Jordans. But when his recently widowed grandfather Ed (De Niro) moves in
with
Peter's family, the boy is forced to give up his most prized possession of all, his bedroom. Unwilling to let such an injustice stand, Peter devises a series of increasingly elaborate pranks to drive out the interloper, but
Grandpa
Ed won't go
with
out a fight. Soon, the friendly combatants are engaged in an all-out
war
with
side-splitting consequences.
Alongside De Niro and Fegley is a top-notch cast including Academy Award
®
nominee Uma Thurman (
Kill Bill
series,
Pulp Fiction
), Rob Riggle (
21 Jump Street
, "Modern Family"), Cheech Marin (
Cars
series,
Coco
), Golden Globe
®
winner Jane Seymour (
Wedding Crashers
, "Jane the Virgin"), Laura Marano (
Lady Bird
, "Austin & Ally") and Academy Award
®
winner Christopher Walken (
Hairspray
,
Catch Me If You Can
) that bring even more laughs throughout the mischievously funny and charming film. From director Tim Hill (
The SpongeBob Movie: Sponge on the Run
, "SpongeBob SquarePants")
with
a script by Tom J. Astle (
Get Smart
,
Failure to Launch
) and Matt Ember (
Get Smart
,
Epic
),
THE

WAR

WITH

GRANDPA
is sure to entertains audiences of all ages.


If there is just one thing that we all need a little more of in 2020, laughter is definitely that one thing. It's been a rough year for all of us, and as they say... laughter is the best medicine. We recently had the chance to watch an all new movie that had the whole family laughing together: The War With Grandpa.

Just taking one look at the cast list gave me a pretty good idea that this should be a decent movie... there are many award-winning and well known actors and actresses who star in the film like Robert DeNiro and Uma Thurman, to name just two. With names like that, one could expect it to be good... but let's be honest... these also are not names that I would typically associate with a family movie either. Despite it's PG rating, I really wasn't certain what I should expect. Honestly, I was pleasantly surprised. With a name like The War with Grandpa, it's probably already assumed that there will be some comical mischief... and there certainly is a lot of that with some minor violence mixed in of the slapstick comedy variety (think Home Alone for example). There are also a handful of curse words, but they were very minor (wisea** and h***), as well as a few otherwise rude words and potty humor. Again, very minor compared to many other family favorites, but certainly something to consider when deciding if it's appropriate for your own family.

While the movie starts out with a kid who is quite disrespectful to his grandfather, in the end they are brought closer and it truly was a feel good family movie and one that we personally enjoyed!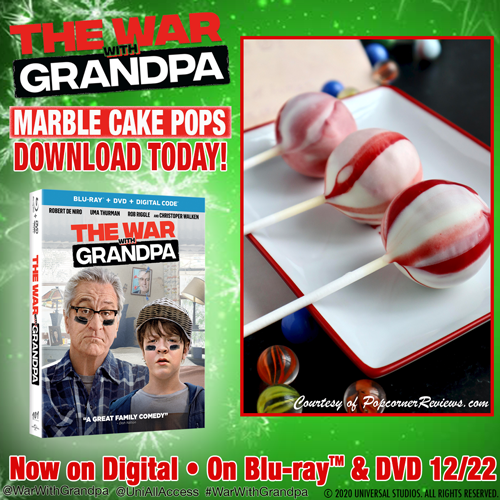 Film Website:
https://www.

war

withgrandpa.com/
UPHE Website:
https://www.uphe.com/movies/the-

war

-

with

-

grandpa
Trailer:
https://uni.pictures/

War

WithGrandpaTrailer
Facebook:
https://www.facebook.com/

War

WithGrandpa/
Twitter:
https://twitter.com/

war

withgrandpa
Instagram:
https://www.instagram.com/

war

withgrandpa/
#

War

WithGrandpa
One winner is going to win a copy of the movie on Blu-ray and DVD for themselves. Enter using the giveaway form below: