A classic fairy tale gets a modern twist in the action-packed animated adventure Red Shoes and the Seven Dwarfs, premiering on Digital and On Demand September 18 and available to own on Blu-ray™ and DVD September 22 from Lionsgate. Chloë Grace Moretz (Bolt, Inside Out), Sam Claflin (The Hunger Games series), Gina Gershon (TV's "Riverdale"), Patrick Warburton (TV's "Family Guy," The Emperor's New Groove), and Jim Rash (TV's "Community") lend their vocal talents to this humorous and heartwarming retelling of the Snow White fable, only this time it's the princess who must save the prince(s) – all seven of them! This family-friendly film has "a strong body-positive theme that emphasizes the beauty of characters of all shapes and sizes" (Common Sense Media), and received the Dove Seal of Approval for All Ages.

This outrageous fairy tale spoof starts as Snow White steals a pair of red shoes that transform her into a princess. Meanwhile, a witch's curse turns seven brave princes into dwarfs, forcing them to seek out the princess, hoping for a kiss to break their spell. Together, they must face Snow White's wicked stepmother – who will stop at nothing to get her precious shoes back – and, along the way, learn that true beauty lies within!

Red Shoes and the Seven Dwarfs was directed by Sung-ho Hong, and features character design and animation direction from Jin Kim, who worked on Disney's animated classics Fantasia 2000, Frozen II, and Tangled. Music is by Primetime Emmy® award-winning composer Geoff Zanelli (2006, Outstanding Music Composition for a Miniseries, "Into the West"; Emmy® nomination: 2010, Outstanding Music Composition for a Miniseries, "The Pacific"), whose theatrical work includes Maleficent: Mistress of Evil and Pirates of the Caribbean: Dead Men Tell No Tales. Voice direction is from Tony Bancroft, the director of Disney's Mulan. It was produced by Locus Animation Studio.

Go behind the scenes of this must-own animated adventure with enchanting Blu-ray and DVD bonus features, including two "making-of" featurettes and two music videos featuring the all-new original songs! The Red Shoes and the Seven Dwarfs Blu-ray and DVD will be available for the price of $21.99 and $19.98, respectively.

BLU-RAY / DVD / DIGITAL SPECIAL FEATURES
"The Making of

Red

Shoes

and the Seven Dwarfs" Featurette
"From Storyboard to Animation: Creating

Red

Shoes

and the Seven Dwarfs" Featurette

"Start of Something Right" Music Video

"Something So Beautiful" Music Video
I suppose it's no secret that we love a good fairy tale around here, is it? But you know what else we love? A good laugh and a good adventure! Red Shoes and the Seven Dwarves perfectly gave us all three. This humorous take on the classic Snow White story seemed to me to have all the best elements of Snow White (the fairy tale), Tangled (the adventure and wit) and Shrek (in it's humorous spoofs as well as self image messages)... and it worked fantastically.

For my daughter, of course she loves any story that has to do with princesses and magic so this was certainly right up her alley in that respect. She and my son both enjoyed the humor in it. As I said, it put me in mind of Shrek in some ways, which just so happens to be my son's favorite, so perhaps that played a part in his enjoyment as well. (Don't worry though, this story is quite unique in it's own right!!) And okay, I admit, I enjoyed all of that too! It really was one of those movies that audiences across a wide variety of ages and interests could find something to enjoy in. My personal favorite though was the great message within the story. As Common Sense Media said, the movie had "a strong body-positive theme that emphasizes the beauty of characters of all shapes and sizes". Isn't that a message that kids so need? Oh, let's just be honest... isn't that a message that we adults often need too? I love that not only are the kids having fun watching this hilarious tale, but they are also being reminded that true beauty truly does come from within.

If you're looking for a great movie to add to your family movie night, this is certainly one worth checking out.
Add a bit of magic to coloring time with these super cute coloring sheets! http://bit.ly/RedShoesColoringSheets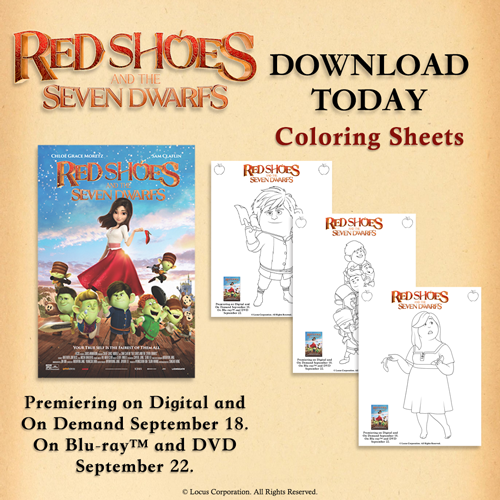 Make your own fairy tale friends with this fun and easy craft!
http://bit.ly/

Red

ShoesBearPuppets