**This post contains affiliate links and I will be compensated if you make a purchase after clicking through my links.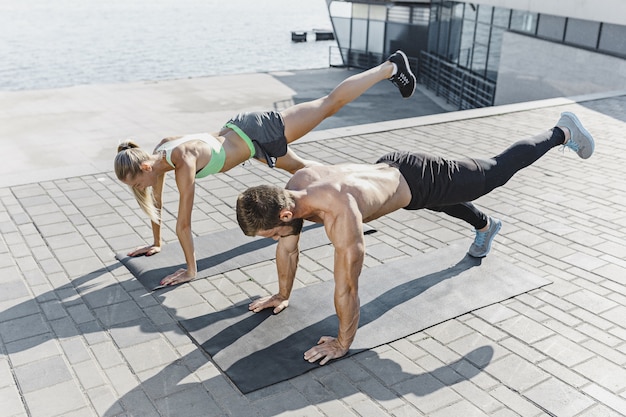 PC: Freepik

2020 has been quite the year, hasn't it?

We started the year making resolutions like any other year: eat better, get healthy, pick up a new hobby, get back to the gym. We certainly had no idea what the year would bring! Those health and fitness goals? For many, they went right out the window as soon as the lockdowns began. Now, as things begin to reopen, we can start to look at those goals again...

But, how can we reach our fitness goals amidst the pandemic?



This is one question that we each have to decide on how to answer for ourselves. Let's take a look at our options:



Back to the Gym



In many areas, gyms are opening back up slowly. But is it a good idea to go back? My gym has made a ton of changes to help ensure safety. Some of these changes have included:


Limiting capacity

Frequent cleaning

Social Distancing (by increasing space between machines, smaller classes, etc)
Members must bring their own towels and water.
No guest passes
Limiting childcare
Mask usage (While we are in an area in which masks are mandatory, it is from my understanding that during active exercise, they are not required. I am however uncertain on this.)
Check your local gym to find out what safety precautions they are taking.

While going back to the gym might pose more of a risk, there are some benefits as well. For many, the gym provides more variety, giving access to equipment that they would not otherwise have at home. There is also a certain accountability and routine that goes along to going into the gym that many benefit from. For those who take regular exercise classes, there is a social and mental health aspect as well. While social distancing is important, complete and total social isolation can be hard on one's mental health as well.

At Home Work Outs

Working out at home is certainly the safer option and there are a good variety of options you can do such as walking, running, small weights, etc. You can also find a wide variety of workout videos available online as well (some gyms are even currently offering them).

Still, while it's not a bad option, for many it can be hard to stick with an at home workout. There are many more distractions and other things you could be doing when at home. For those who are earlier on in their fitness journey, the lack of knowledge can make a big difference. I know I personally benefit from having someone who knows what they are doing help me to get the results I'm looking for.

Ultimately, we each have to decide what is best for us. Personally for me, I'm not quite ready to go back to the gym just yet. This is in part due to health issues that make me more cautious to do so... but also because of having to take my children along as well. Instead, we are trying to stay active as best as possible at home- walking, etc. Am I as good about it as I should be? Most certainly not, but I am working on getting better! That's really all that any of us can do!

Whether you decide that heading back to the gym or staying at home is best for you,

FYT

offers a variety of personal training options designed for YOUR needs--- they fit your schedule, your goals and can meet you wherever you're comfortable with--- outside, home or in the gym! This can be a great way to get that accountability and support you need...absolutely anywhere!


They have 500+ 5 Star Reviews, so you can rest assured that you are getting a great trainer. I love that they now offer outdoor training, allowing you to safely work out and take in some valuable sunshine too!

And right now, you can take

$50 OFF your first purchase at Fyt Personal Training with code FYT50 at checkout!


Head on over to FYT to find a trainer in your area to get started!


How have you been maintaining your fitness goals during this pandemic? What precaustions are you/your gym taking? How could personal training from FYT help?