Welcome to the Oh The Places You'll Go! Back To School Giveaway Hop Event hosted by The Kids Did It and Mommy Island.

From now through August 20th, hop along to all participating blogs for your chance to win a variety of family friendly giveaways. There is no limit to how many you can win, so hop along and enter them all.

*********************************************



**I received a copy of the Bluray for consideration. All thoughts are 100% my own.






With school starting back up across the country, our time with our children is a little more limited than what it had been in the summer months... but that doesn't mean it's not just as important. Whether it's dinners together or a movie night, it's important to find those moments to spend together as a family. Need a movie to start with? Avengers Endgame is the perfect choice!
The fourth installment in the Avengers saga is the culmination of 22 interconnected films and the climax of an epic journey. Earth's heroes will finally understand how fragile our reality is—and the sacrifices that must be made to uphold it—in a story of friendship, teamwork and setting aside differences to overcome an impossible obstacle.

Bonus features on the Bluray/DVD include:
·

Steve and Peggy: One Last Dance – Explore Captain America and Peggy Carter's bond, forged in moments from previous films that lead to a momentous choice in "Avengers: Endgame."
·

Remembering Stan Lee – Filmmakers and cast honor the great Stan Lee in a fond look back at his MCU movie cameos.
·

Setting The Tone: Casting Robert Downey Jr. – Hear the tale of how Robert Downey Jr. was cast as Tony Stark in the original "Iron Man" — and launched the MCU.
·

A Man Out of Time: Creating Captain America – Trace the evolution of Captain America with those who helped shape the look, feel and character of this compelling hero.
·

Black Widow: Whatever It Takes – Follow Black Widow's journey both within and outside the Avengers, including the challenges she faced and overcame along the way.
·

The Russo Brothers: Journey to Endgame – See how Anthony and Joe Russo met the challenge of helming two of the biggest films in cinematic history ... back-to-back!
·

The Women of the MCU – MCU women share what it was like to join forces for the first time in an epic battle scene — and be part of such a historic ensemble.
·

Bro Thor – His appearance has changed but his heroism remains! Go behind the scenes to see how Bro Thor was created.
·

Six Deleted Scenes – "Goji Berries," "Bombs on Board," "Suckiest Army in the Galaxy," "You Used to Frickin' Live Here," "Tony and Howard" and "Avengers Take a Knee."
·

Gag Reel – Laugh along with the cast in this epic collection of flubs, goofs and gaffes from set.
·

Visionary Intro - Intro by directors Joe and Anthony Russo.
·

Audio Commentary - Audio commentary by directors Anthony and Joe Russo, and writers Christopher Markus and Stephen McFeely.
Unless you've been living under a rock, chances are you've already heard a LOT about Avengers Endgame. In fact, by now, many of you have probably already seen it yourself in the theaters and are anxiously waiting to grab your copy ASAP. There's just something about a good superhero movie, isn't there? They truly are a movie that our whole family can enjoy together. It has the action and adventure that my husband likes, while still being appropriate to watch with the family. We cannot get enough. We have so enjoyed getting to watch all the individual movies throughout the years and this one brings them to an epic close. I won't give anything away in case you still haven't had the chance to watch, but trust me... it's a GOOD one!

The Bluray also includes a variety of great features your family will absolutely love. We loved the behind the scenes looks, but the best feature on this particular movie was certainly the tribute to Stan Lee. His cameos have always been a favorite in our family, so this was a great- though bittersweet- addition. On a lighter note, bloopers are ALWAYS a big hit in this house too.
If your family love the Marvel Avengers movies, this is a MUST add to your collection!
While you wait,

Hulk SMASH your way into these two awesome Hulk-Inspired DIY activities! Create some DIY Slime while crunching into a few Green Tacos, just in time for Taco Tuesday! Download them at

http://bit.ly/

Avengers

EndgameActivitiesHulk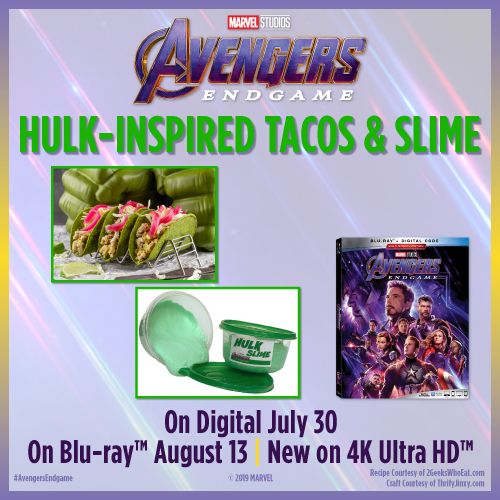 AVENGERS
:
ENDGAME
is On Digital July 30! On Blu-ray™ August 13 | New on 4K Ultra HD™
And as part of the Oh the Places You'll Go
Giveaway
Hop, one very lucky winner is going to win a copy for themselves. Enter using the giveaway form below: