***Product received for consideration. All thoughts are 100% my own.
I love Christmas. The sights, the sounds, the smells... it's all pretty magical, isn't it? But the most magical thing about Christmas?
Seeing it through the eyes of a child!
I have always loved Christmas and could never imagine loving it more, but after having children... it just seems to give you a whole new outlook on the season. I love watching their eyes light up at the first sight of snow. I love hearing their theories on Santa and how the magic works. I love the excitement in their eyes as they see that red suit at the local mall. And yes, I even love those early morning wake-up calls Christmas morning, anxious to see what the man in the suit has given them.
Call me crazy, but I want to keep that magic alive as long as possible!
PackageFromSanta.com
helps us to do just that:
Start a new and memorable tradition this Christmas with PackageFromSanta.com, the ONLY Santa memory service that does it ALL! Personalized LETTERS, PACKAGES, CALLS and VIDEOS from SANTA!
Do you want to see your children's face light up in amazement when they get a personalized letter from Santa Claus? Of course you do! This not just a letter from Santa. It's an amazing experience - it's joy, memories, wonder and happiness in a box! You can choose a specific letter theme and then customize it yourself to include details that only Santa would know!
I was recently given the chance to experience their Silver Package, which includes the following: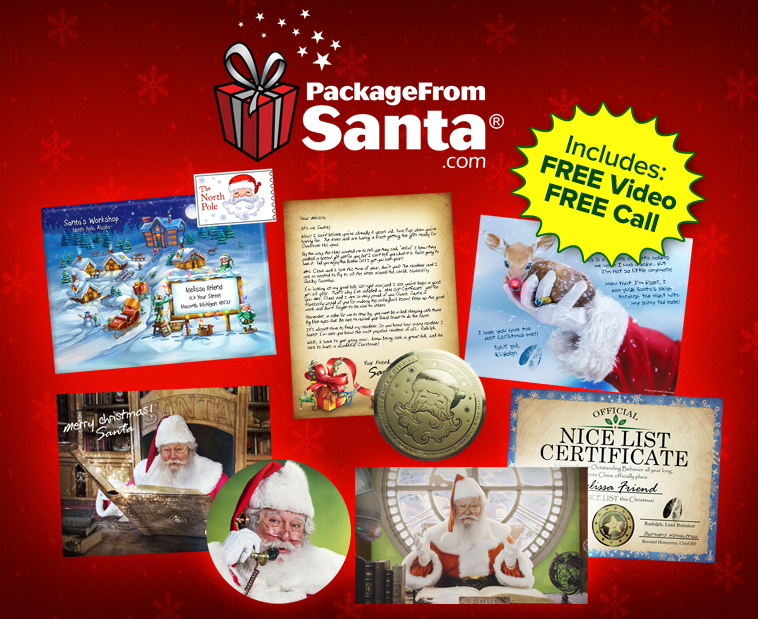 Personalized Letter from Santa
BONUS! Personalized Video from Santa (retail $9.99)
BONUS! Personalized Phone Call from Santa to a cell phone OR land line! (retail $9.99)
Personalized Nice List Certificate
Autographed Santa Claus Photo
Autographed Rudolph Photo
Genuine North Pole Stamp
...and so much more!
First, the whole thing was super easy to set up. You fill in your child's name, upload some photos and you're all set. They offer a variety of letter styles to choose from and even allow you to edit and customize to best fit your child. The video allows you to add their name and photo and if your kiddo has been a bit of a stinker, even allows you to put them on the naughty list--- with some encouragement to turn it around.
When the package arrived, it truly is like magic! It was addressed to them, from Santa in the North Pole. My son kept saying, 'This is a VERY special delivery!' They loved it. It was fun, it was unique, it brought the magic of the north pole straight to our mailbox.
The Silver package is just one of the options available. They offer three different packages to fit your needs and your budgets, and lots of add ons you can purchase to make your Christmas experience even more magical too.
Even better? It also comes with a 60-Day Money-Back Guarantee. So, should your child not love it, you get your money back... but I'll be honest, I don't see THAT happening!
Ready to check it out? Order this holiday must-have for your child at
https://www.packagefromsanta.com/
and save 25% OFF your order when you use FAMS17 at checkout.
How do you keep the magic of Christmas alive for your children? How can PackageFromSanta.com help?