Looking for a fun adventure for your next family movie night? The Bad Guys is now available on Blu-Ray, DVD and Digital.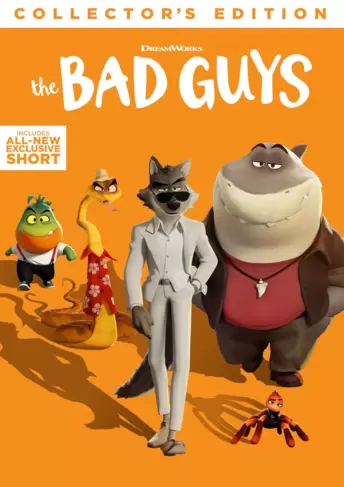 About the Movie/DVD:
Never have there been five friends as infamous as
THE

BAD

GUYS
—Mr. Wolf, Mr. Snake, Mr. Piranha, Mr. Shark and Ms. Tarantula. After years of countless heists and being the world's most-wanted villains, the gang is finally caught. Mr. Wolf brokers a deal to keep them out of prison and the
Bad
Guys
set out to fool the world into believing they've gone good. Packed with huge laughs and edgy action, being
bad
has never been so fun in this action-comedy from DreamWorks Animation.
THE

BAD

GUYS
is based on the Scholastic children's graphic novels by Aaron Blabey that earned a spot on the
New York Times
bestselling list for more than 100 weeks and have sold a combined total of more than 1 million copies to-date.
EXCLUSIVE BONUS FEATURES ON DIGITAL, 4K UHd, BLU-RAYTM AND DVD:
ALL-NEW ORIGINAL SHORT "MARASCHINO RUBY" - In this original DreamWorks animated short, The

Bad

Guys

are at it again, but not in the way you think. They've gone good! Find out what happens to the team after they go rogue in this sweet original short.
DELETED SCENES

Original opening
Snake Attack
Extra Secret Base Tour
You Can't Fake Good
Post Credits: Scientist Button

DEVISE THE PLAN: MAKING THE

BAD

GUYS

– From book to storyboard to the silver screen, join the cast and filmmakers as they devise how to bring The

Bad

Guys

to life.
ASSEMBLE THE CREW – Go face to face with the voices behind our favorite animated

bad

guys

– Mr. Wolf, Mr. Snake, Mr. Shark, Ms. Tarantula & Mr. Piranha.
IT'S SHOWTIME: CAST TABEL READ – Teamwork is the ultimate ingredient in pulling off a job without a hitch. now that they've agreed on the plan, it's time to bring the cast of The

Bad

Guys

together for their first table read.
SNAKE'S FROZEN POP SHOP – Want to learn how to make your own version of Mr. Snake's favorite frozen pops? With these easy recipes, you'll be on your way to chill-ville in no time. Want to go the extra mile? Create your own frozen pop disguises.
FROM THE DRAWING ROOM – Learn step by step from The

Bad

Guys

head of story, Nelson Yokota, how you can create your very own storyboard and draw the film's main characters

How To Storyboard
How To Draw Mr. Wolf, Mr. Snake, Mr. Shark, Ms. Tarantula, Mr. Piranha




FEATURE COMMENTARY – Feature Commentary with Director Pierre Perifel, Producer Damon Ross, Head of Story Nelson Yokota, Head of Character Animation JP Sans, and Production Designer Luc Desmarchelier.





My family and I were recently given the chance to receive a copy of the movie to check out for ourselves and check out with all of you. We had previously seen the previews for this one during a trip to the theater, and both kids were pretty excited about it. While neither had read them books this was based on themselves, my daughter at least had some friends who had really enjoyed it and was vaguely familiar from that.





I thought it was a fun movie. It was funny, but also had a good message about the bad guys becoming good guys too. There was definitely a little something in it for everyone in the family. But in the end, it's really the kids' opinions that matter more, right? As such, my 8-year-old daughter Finley decided to write up a review herself. Here's what she thought:





I thought that The Bad Guys was a great movie.


My favorite parts of the movie are:


When Mr. Shark and Mr. Snake both want the push pop, and how Mr. snake eats it. That was my top favorite part because it was very funny.




My second favorite part was when Mr. Piranha called the meteorite a butt. It was extremely funny.




And when Mr. Snake eats the hamsters. Good for a family movie night, or just for fun.

I have to agree, this was a fun movie for any time, and would be a good choice for a family movie night. Definitely worth checking out.

For more information on THE BAD GUYS, please visit:Website: https://www.uphe.com/movies/the-bad-guysTrailer: https://uni.pictures/BadGuysAnnounceFacebook: @TheBadGuysMovieTwitter: @DreamWorksInstagram: @BadGuysMovieHashtag: #TheBadGuysMovie