**DVD received for consideration. All thoughts are my own.



The

Casagrandes

: The Complete First Season
synopsis:
Ronnie Anne is an independent, skateboard loving 11-year-old who moved to the big city with her mom and brother to live with their extended family, the
Casagrandes
. Her new life promises to be an adventure, now that she's living under one roof with her grandparents, aunt, uncle, cousins, and a sass-talking parrot. As if that weren't enough excitement, her bedroom is directly below the bedroom of her best friend, Sid. And on the ground floor is the family run market (the Mercado), which is a gathering place for all their quirky neighbors. While her brother Bobby helps run the Mercado with their gossip-loving Abuelo, Ronnie Anne and Sid explore the city, making fun new friendships along the way. She's also getting to know everyone in her bustling multigenerational Mexican-American family. Her new life is full of new discoveries, love, laughter and plenty of food!

The

Casagrandes

: The Complete First Season
episodes:
Disc One:
Going Overboard / Walk Don't Run

The Two of Clubs / Vacation Daze

New Haunts / Croaked

Snack Pact / The Horror-Scope

Arr in the Family / Finders Weepers

Stress Test / How to Train Your Carl

Operation Dad

Flee Market / Copy Can't

Away Game / Monster Cash

Trend Game / This Bird Has Flown

Disc Two:
V.I.Peeved / Señor Class

Fast Feud / Never Friending Story

Grandparent Trap / Miss Step

Slink or Swim / The Big Chill

Karma Chameleon / Team Effort

Guess Who's Shopping for Dinner? / New Roomie

Mexican Makeover / Uptown Funk

Bo Bo Business / Blunder Party

Cursed!

What's Love Gato Do With It? / Dial M. for Mustard
Do you have a kid who enjoyed Nickelodeon's The Loud House? If so, they will NOT want to miss the

spin-off from the award-winning animated series. Casagrande

follows Ronnie Anne, a free-spirited and skateboard-loving 11-year-old who moves to the big city to live with her large and lovable Mexican-American family, the Casagrandes.



My 13-year-old absolutely loves The Loud House, so naturally, he was pretty excited to get the spin-off on DVD. So excited in fact that as soon as it arrived at our house, he immediately claimed it for himself without giving the rest of us a chance to check it out. His verdict? He enjoyed just about as much as The Loud House! The DVD features all 20 episodes of the first season, making it an absolute must have for the fan to be able to watch at any time they wish. The show is filled with lots of quirky characters that kids are not going to be able to get enough of! They might just pick up a little bit of Spanish too.

Whether they're fans of The Loud House or have never seen an episode, but enjoy a fun cartoon filled with family and laughs, this is definitely one to check out and add to your collection! It is available on DVD now!



Learn to speak Spanish with the help of the
Casagrandes
with these printable Spanish-English Flash Cards!
http://bit.ly/

Casagrandes

S1FlashCards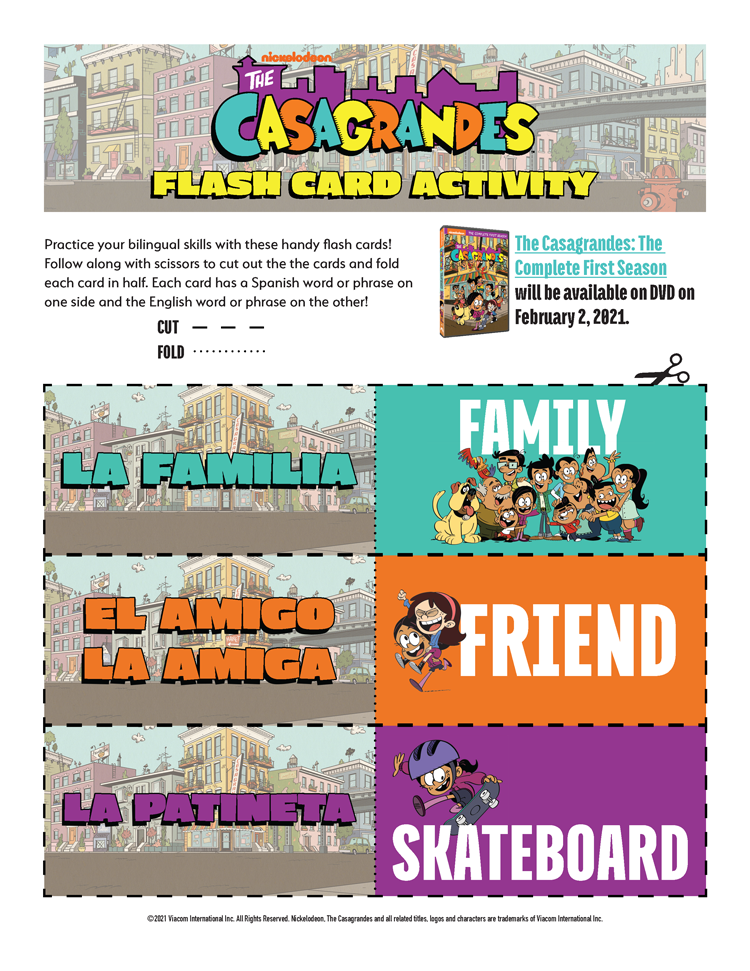 Family night just got tastier with this recipe for Mexican Tortas!
http://bit.ly/CasagrandesTortaRecipe