**Movie received for consideration. All thoughts are my own.

Seven years after the Monsterpocalypse, Joel Dawson (Dylan O'Brien), along with the rest of humanity, has been living underground ever since giant creatures took control of the land. After reconnecting over radio with his high school girlfriend Aimee (Jessica Henwick), who is now 80 miles away at a coastal colony, Joel begins to fall for her again. As Joel realizes that there's nothing left for him underground, he decides to venture out to Aimee, despite all the dangerous
monsters
that stand in his way. The fun-filled
and
action-packed adventure also stars Dan Ewing, Michael Rooker
and
Ariana Greenblatt.
The Blu-ray includes the following bonus content:
•Deleted scenes
•Bottom of the Food Chain: The Cast of LOVE AND MONSTERS
•It's a Monster's World: Creating a Post-Apocalyptic Landscape

Rating | PG-13 for action/violence, language and some suggestive material







LOVE AND MONSTERS is quite different from the movies that I typically review and share. While those mostly consist of films that the whole family can enjoy, this one... well, it doesn't quite make the cut with it's PG-13 rating. Beyond that though, it's just not the typical movie that I myself would tend to pick out. I'm more of a lighthearted romance kinda girl... to be honest, I wasn't expecting to enjoy it at all. It did however seem like something my husband would enjoy so I decided to check it out with him.

I must admit that I was quite pleasantly surprised that I actually really enjoyed it! Not only that, but it was reasonably family friendly as well, depending on the age of your children. As mentioned, the rating on this one is PG-13, and I feel like that's probably a pretty accurate rating. Primarily this seemed to be due to violence. It's a post-apocalyptic type story in which the earth has been invaded by monsters. We follow one of the survivors as he makes his way to find the girlfriend from whom he'd been separated from since the invasion. As such, he has to fight a lot of mutants--- hence the violence. There was a bit of human fighting as well, but definitely more towards these creatures. The mutants might be a little scary looking for younger children, but they were also a bit humorous looking too in many cases. There was a bit of brief language, but quite minimal for the rating I thought. In the beginning of the movie, there was some sexual references as well--- referring to a couple as being in the honeymoon period and very physical, with some noises heard off screen as well as a couple's intertwined legs shown. While nothing is seen, it's quite evident what is being implied in this moment. To be honest, this was really the only part that made the movie more questionable to me as far as considering it a family movie. Taking a look at the other considerations--- violence, language and fear--- I would consider it probably similar to movies like Jurassic Park. Perhaps a little intense for some younger or more sensitive audiences, but generally okay. It's definitely one that I'd recommend watching beforehand before deciding on if it's okay for your specific child.

The movie was a bit cheesy, but in the best way possible... like it didn't take itself too seriously either. I truly enjoyed it, as did my husband... a rarity that we agree on movies! Definitely worth checking out.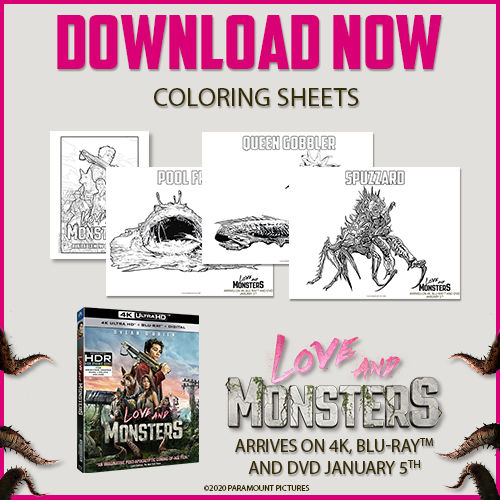 Get it now: https://paramnt.us/Watch-LoveAndMonsters

Connect with PARAMOUNT MOVIES online: Visit PARAMOUNT MOVIES on our WEBSITE: https://paramnt.us/ParamountMoviesOff... Like PARAMOUNT MOVIES on FACEBOOK: https://paramnt.us/ParamountMoviesFB Follow PARAMOUNT MOVIES on TWITTER: https://paramnt.us/ParamountMoviesTW Follow PARAMOUNT MOVIES on INSTAGRAM: https://paramnt.us/ParamountMoviesIG