Welcome to the Fantastic Father Giveaway Hop hosted by Review Wire Media and Chatty Patty's Place.
From now through June 16th, hop along to all participating blogs for a chance to win a great variety of prizes perfect for dads--- and the family too! There is no limit to how many you can win, so hop along and enter them all!
****************************
**I received a complimentary screener for consideration. All thoughts are my own.
How do you celebrate Father's Day?
We tend to keep things pretty simple around our house. Father's Day usually means a delicious meal suited to my husband's taste and maybe a good ol' fashioned family movie night too. Any excuse for a good family movie is a good one in my book!
Today, I'm sharing a fun new movie perfect for your next family movie night- Think Like a Dog! Check it out:
Josh Duhamel and Megan Fox star in this whimsical family comedy about a boy and his dog, and a science project that will change all of their lives forever. Think Like a Dog follows 12-year-old Oliver, a tech prodigy whose middle-school science fair experiment goes awry, creating a telepathic connection between him and his furry friend, Henry. The bond brings Oliver and Henry even closer as they join forces to comically overcome complications at school, and help Oliver's parents rekindle their marriage along the way.
The Think Like a Dog special features include an audio commentary with writer-director Gil Junger and a making-of featurette, allowing an inside look at what it took to make this family-friendly flick. The Think Like a Dog
Blu-ray and DVD will be available
for the suggested retail price of $19.99 and $19.98, respectively.
BLU-RAY / DVD / DIGITAL SPECIAL FEATURES
·

Audio Commentary with Writer-Director Gil Junger
·

"Anything is Paw-sible: Making Think Like a Dog" Featurette
Now if you're a dog person... you might find yourself drawn to this movie on the idea alone. I must admit, I am not a dog person at all and don't generally find myself drawn to dog movies... but I know a good story when I hear one...and this was a good story!
For the kids, it was full of fun! A science experiment gone wrong leaves Oliver the ability to understand his dog Henry. Needless to say, this leads to lots of humor that my kids loved. Of course, we grown ups can appreciate the humor as well... but it's not just the laughs. It's truly a very heartwarming story as well. It truly was a fantastic movie that the whole family will be able to appreciate and enjoy together! I know we did! It is a movie that dog people and non dog people alike will be able to appreciate!
Think Like a Dog is premiering on @AppleTV and everywhere you buy movies June 9, but you don't have to wait until then for the fun to begin. Check out this fun word game while you wait!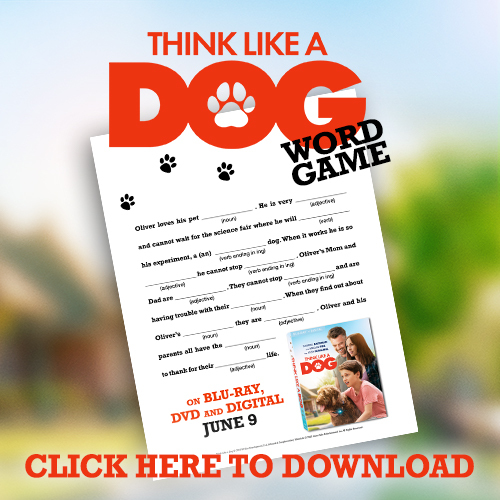 Learn more and connect at the links below:
And as part of the Fantastic Father giveaway hop, one lucky winner will win a digital copy of the movie. Enter using the giveaway form below: