**Product received for consideration. All thoughts are 100% my own.
Every year at Christmastime, I like to add at least one new game to our collection.
Sometimes they are classic games that we've all been playing for years and years. Sometimes they are those new and exciting games that everyone is going crazy for. Today, I'm sharing with you a game that is certainly likely to make that second list.
Introducing Watch Ya Mouth 90s Edition: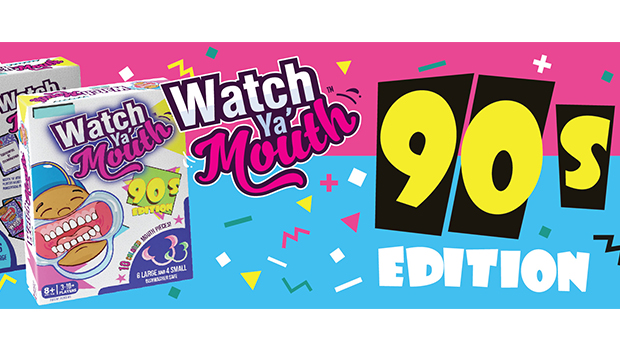 VOTED BY FANS: 90's version exists because of YOU!

From the company that made Watch Ya' Mouth, the top selling, original, award-winning party card game

Watch Ya' Mouth: 90's Edition combines the game play you've come to know and love with the nostalgia of all things 90's

Bangin' phrases such as "Billy Ray's Mullet" and "Gameboy" will bring it all back for a night of dope fun!

3-10 players wear cheek retractors and speak out 90's phrases while teammates guess what they are saying

Includes 200+ Family-Safe phrases. Great for all ages including kids who are 8+
I don't know if you've noticed... but the 90s are BACK. From the TV shows to the fashions, it ALL seems to be making a comeback. Not even a month ago, I found myself walking through Target and passing an outfit that was absolutely, 100% Cher Horowitz. Turn on the TV to find some of those 90s favorites being recreated (or shown once again)... I mean, I'm not the ONLY one looking forward to that next season of Fuller House, am I? I didn't think so. Us children of the 90s love anything and everything nostalgic! This game truly is the perfect way to celebrate that!
The original Watch Ya Mouth game has been very popular with its family friendly fun. Hearing your friends and family trying to read the phrases on each card with a mouth piece in place. The laughs are sure to follow. This version is the same... but with fun 90s phrases that every 90s kid will enjoy. Even better, it can be a fun (and funny) way to pass that nostalgia on to my children too. They might not know all the phrases right away (though my son IS surprising well versed on all things 80s and 90s), but you can enjoy sharing YOUR favorites with them now... or just enjoy it with the adults! Either way, fun WILL be had!
This is going to be a MUST under your tree this year! And to help you do so on a budget, I'm excited to share a deal! Right now you can save 30% off Watch Ya' Mouth 90s Edition bundle pack by using the code "Flannel" at wym90s.com. This deals includes free shipping! Now that's a deal I can get behind.
Check out the deal here:
https://www.usfamilycoupons.com/coupon.php?regionid=75&bid=13527&dealid=3443
.@usfg
Are you a 90s child? Have one on your list? Who would you love to play Watch Ya Mouth 90s Edition with this holiday season?