**Product received for consideration. All thoughts are 100% my own.
Mermaids are everywhere!
From throw pillows to plush. From coffee mugs to fun tees. You can find just about anything and everything with a fun mermaid theme these days.
But what's the best gift you could give the mermaid fan in your life?
The chance to actually swim like a mermaid, of course!
Enter AquaMermaid.
First and foremost, let's talk about their super fun mermaid tails, which include the tail and a profession monofin. Take a look at what sets AquaMermaid Mermaid Tails apart:
AQUAMERMAID FABRIC TAIL
The Aquamermaid tail fabric is offered in an exclusive scale design. The colours are bright, the fabric is stretchy and breathable. There is a zipper on the side to allow quick and easy access for safe removal in the water.
SAFETY FIRST - Our mermaid tails have a side zipper for easy access to the feet.
DURABLE - Strong fabric to resist against wear and tear. Reinforce tips allow you to keep it longer and play more.
SUPERIOR MATERIAL - Designed for mermaid swimming schools standards. We use a thick 4 way stretch polyester fabric and 250grms thread counts.
AQUAMERMAID MONOFIN
Our monofins are real sport equipment offering superior propulsion and control. The Aquamermaid monofin is comfortable and has individual foot pocket with adjustable straps. The material is flexible to follow the wave movement of your body. It was designed as a real piece of sport equipment, not just as a toy! This monofin offers superior propulsion and control.
I was recently sent one of their mermaid tails to try out for myself. The design is absolutely beautiful. It's nothing too fancy--- no sparkles, no multi color schemes, etc... just simple mermaid tails with a realistic scale like design. The quality is fantastic and I know it would hold up for a long while. The monofin again seems to be a great quality. Now to be honest, I don't know much about this type of swim gear myself, so I can't speak to how it compares to others, but I can say from my novice point of view, it looks and feels great! And is easy to remove if the tail isn't being used for swimming. In and of itself, the chance to chill in the pool like a mermaid in this stunning tail is sure to make any mermaid fan go crazy!
But why stop at just LOOKING like a mermaid? Can you imagine what it would be like to actually swim like one too? You see, AquaMermaid doesn't just offer mermaid tails... they teach you to SWIM like a mermaid too!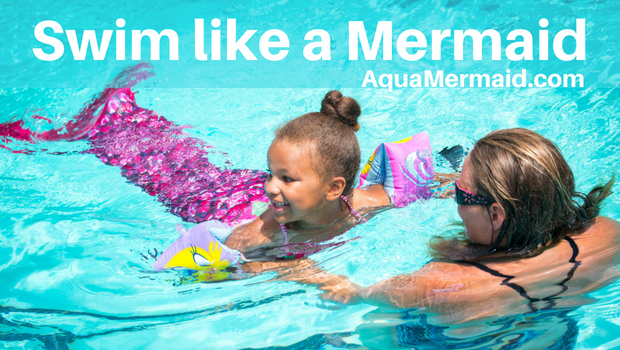 Mermaid swimming party for kids and adults! Learn to swim in this fun and dynamic 60-minute aqua-fitness class in a mermaid's tail. You'll learn different synchronized swimming techniques to get you feeling like a beautiful mermaid. You'll be surprised at the speed and power behind the mermaid's tail. We'll leave time for photos at the end, so bring your camera to get the perfect shot of you as a mermaid. Host your next birthday or bachelorette party with us.
* Swimmable mermaid tail are supplied. *Requirements: Minimum age 7 yrs & participants must be know how to swim. *Mermaid tails also available for purchase.
Amazing! Can you just imagine the look on your mermaid fan's face Christmas morning when they discover that they'll be swimming like a mermaid!? Even better, it's not a toy! Let's be honest, with the holiday season comes an overabundance of new toys that we have to find a place for... many of which will lose their appeal in just a few short weeks, if that... but an experience like this? That is something they will always treasure.
And right now, you can save! Try a mermaid swimming class for kids or adults with AquaMermaid School! Use code: familyguide10 to save 10% off a class and mermaid tails! Locations across USA and Canada. Visit: www.aquamermaid.com