**This is a sponsored post written by myself on behalf of Sam's Club & Savings.com. Post contains affiliate links. All thoughts are 100% my own.


Before you become a mom, there's a statement that most of us probably heard a time or two (or ten).
"Better sleep now, you'll miss it once the baby comes."
Now, as a young mom I believed those words of course... but before having children, I never quite realized just how worn out a person could truly be. I thought, oh sure... I've worked long days on my feet at a theme park in the hot sun. I've stayed up all night long and functioned the next day. I'm young... I've got this.
I was wrong.
Motherhood hit my like a ton of bricks! I was constantly tired and finding the energy just to do the simple day to day tasks like keeping my pantry stocked was... a struggle to say the least. Then I did it again, 6 years older and let me just say-- a baby at 20 and a baby at 26, oh yes, quite the difference. I was even more exhausted. Honestly, five years later and I'm pretty sure I'm STILL trying to catch up on sleep. These days at least its a little easier to get out and about with the kids though. When they were itty bitty? Forget it. It wasn't just the exhaustion, but the chore of it all too. You had to make sure you had plenty of diapers packed, wipes and extra outfits. Bottle feeding? You'd need that too. Nursing? Well, your time is even more limited. You certainly don't want to be stuck in traffic getting where you're going when baby decides to nurse.
As a new mom you find two things out very quickly--- you want to use your time wisely and you want to be well prepared for absolutely anything motherhood decides to throw your way.
For many new moms,
Sam's Club
can be the answer to all of those problems.
Most of us know the basic perks of membership for Sam's Club: warehouse prices and bulk deals on name brand items, exclusive instant savings offers available to members only, guaranteed value, faster and easier shopping options like Scan & Go or Club Pickup, and of course remarkable quality and selection on just about everything to include fresh and organic produce, USDA choice meats and fresh-baked goods.
All great things for each and every one of us... but for new moms, there are even MORE reasons to fall in love with Sam's Club. Today I'm breaking it down into three simple reasons for you:
The Value.

Babies are expensive. Diapers. Formula. Baby Food. And let's not even get started on the gear and toys that can help make it all that much easier. Those consumable items though? Babies go through them like crazy. Just take diapers for instance. How many times have you changed your babies diaper, only to immediately be met with a mess!? Two diapers down in under 5 minutes. With Sam's Club we can stock up on all of those baby essentials at a great price. And while you're there, you can also stock up on essentials for the rest of the family too.

The Volume.

Like I said, babies can go through a LOT of stuff. The last thing you want is to be caught running out of diapers when baby is having a higher than usual diaper day! (They all have those, right?). Buying in bulk at Sam's Club is a great way to make sure you always have enough of everything you need without constant trips to buy more.

The Convenience.

If there is one things new moms don't have a lot of it's spare time. They need to use the time that they do have to their advantage. We've talked about how buying in a larger quantity can save on multiple trips back and forth to pick up those needed essentials, but it's not the ONLY way that Sam's Club provides convenience to new moms. They have various options to best fit your needs. Enjoy shopping in store, but hate the lines? Scan & Go allows you to skip the checkout lines. If in store shopping isn't your thing, you can either order ahead with Club Pickup or shop on the go with the Sam's Club app. They even have a subscription service that allows you to subscribe to those items that you order time and time again (diapers, formula, etc) so that you don't even have to think about it! Talk about convenience! And because Sam's Club offers groceries, cleaning supplies, papers goods, etc as well as baby supplies, you can do all your shopping there and save even more time and running! Truly, what's not to love about that?
Are you ready to start enjoying the savings and the benefits of a Sam's Club membership as a new mom? Head on over here to start your membership today. Right now, when you sign up as a new member, you will receive a $20 gift card, as well as $25 in new member Instant Savings. The membership already pays for itself!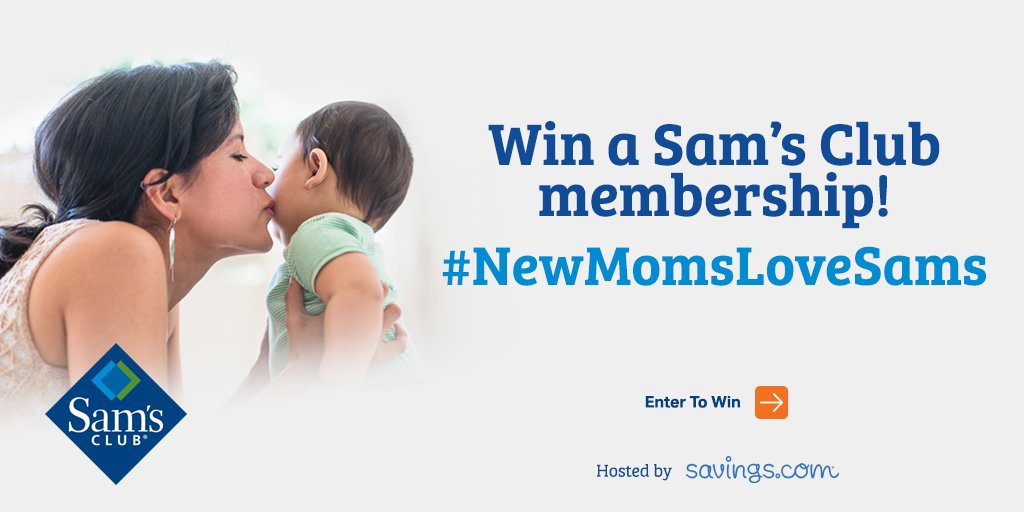 And Savings.com is giving away 25 $100 Sam's Plus Gift of Membership gift cards!
Click here for your chance to be one of 25 winners.
Giveaway Rules & Details:
Thursday, November 1st at 12:00 AM ET to Friday, November 9th at 11:59 PM ET.

Twenty Five (25) winners will receive a $100 Sam's Plus Gift of Membership Gift Card.

Users enter the giveaway by heading to the Sam's Club page on Savings.com and submitting their email address on the form at the top of the page.

The winners will be chosen through a lottery drawing and notified on Monday (11/12) via the email address they used to enter.

See complete Official Rules for entry instructions, full prize descriptions, restrictions and other important details.
For even more chances to win, join the #NewMomsLoveSams Twitter party on November 6th, during which they'll be giving away $1500 in memberships.
RSVP here.
Are you a new mom or do you have a new mom in your life? How could a Sam's Club membership help you/them? What are your favorite membership benefits?