**Product received for consideration. All thoughts are 100% my own.
Have you started your Christmas shopping yet?
Personally, I'm an early shopper, so I'm just about finished, but there are a few people on my list I still need to figure out just the right gift for.... like the tween girls.
Shopping for tweens can be a little interesting. Oftentimes, they are just a little too old for most toys, but still like fun things, not just gift cards and electronics or even clothes as many teenagers do. So, what are some fun gift ideas for the tweens on YOUR list? Here are a few quick ideas:
Jewelry. Girls of all ages can enjoy jewelry. Keep it young and fun, age appropriate.
Makeup/Nailcare Sets. Always check with parents for kiddos that are not your own of course, but I know at this age anything beauty related was always a hit. The same goes for my nieces as well.
Favorite Books. If the girl on your list is a reader, pick a favorite book series for her to enjoy.
Room Decor. I loved decorating and redecorating when I was younger... think fun pillows or throws, cute mirrors, etc.
Journals. Maybe it's the writer in me, but I always loved getting journals as a kid. These days, you can find them in just about any style to match her tastes.
Today, I want to share with you a fantastic company that can help you check the tween girl on YOUR list: Smitco LLC. In the past, I've had the chance to try out some of their nail polish sets that were and still are a favorite in my house... but this year, it's all about their journals.
Now, let's be honest... you can get journals just about anywhere so why choose SmitCo? What makes them special?
First and foremost, the styles are just adorable! From emojis and unicorns to hearts and stars, there are designs to match each personality. They also have options. Want something that locks to keep others out? They have those! Want more of a journal with no lock? Yes, those too. I was sent one of their fun journals to check out for myself. Take a look: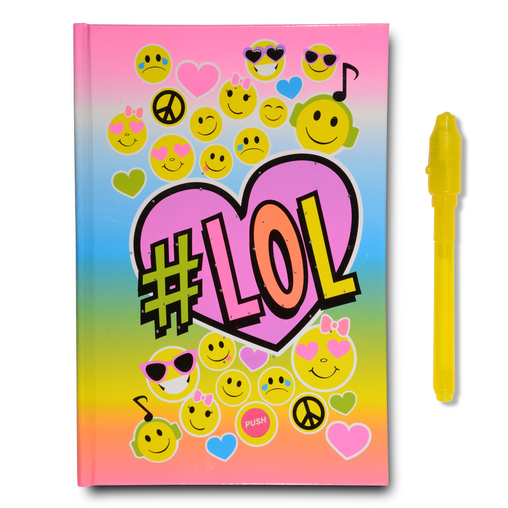 WHILE OTHER GIRL DIARIES ARE SMALL AND THIN, this journal is 8.5 x 5.5 x 1 inch with 80 lined pages, a fancy bookmark and A COVER THAT LIGHTS UP! Most young girls and/or teens have secrets and this hardcover diary will keep it safe because of the invisible ink pen and black light. Nobody will be able to see what she wrote unless they have a black light! PLEASE NOTE that there are 3 alkaline batteries in the pen and 1 lithium metal battery in the light up book
Not only is this style super fun--- I don't know a girl of any age under 12 that isn't crazy about emojis--- to include my 4 year old, but the invisible ink? Genius! I loved that type of stuff as a kid! It's as fun as a toy, but a little more grown up so they can have that sense of--- well, being grown up! And most importantly, they can keep all their secret thoughts a secret! How fun!
Want to check them out for yourself? You can see more great gifts from SmitCo and get 20% Off you purchase too! Go to: http://amzn.to/2a3d3v8 and use coupon code N3CQD6AE on checkout