**Game received for consideration. All thoughts are 100% my own.
Every year as I go about my Christmas shopping, I try to get each of my kids a few things from their list, some practical but fun items (like new PJs and toothbrushes of their favorite characters) and then something for the family. Sometimes this means a movie or two, or some new Christmas books but my favorite family gift is a great board game!
I LOVE board games. I remember playing them as a child and it was always something fun that the whole family could enjoy together. Perhaps some of my best memories with my grandma were from the time we found an old Girl Talk game at a yard sale, and she joined my sisters and I in the fun. Oh, the fun stories we learned from her childhood that day! I remember playing Yahtzee with my cousins. I remember playing life and having too many kids to fit in my car with my other cousins. The memories are endless.
These days there are many more games to choose from--- from the classics to trivia to something a little goofy! Today, I'm excited to share with you a game that fits into that latter category, Watch Ya' Mouth Throwdown Edition: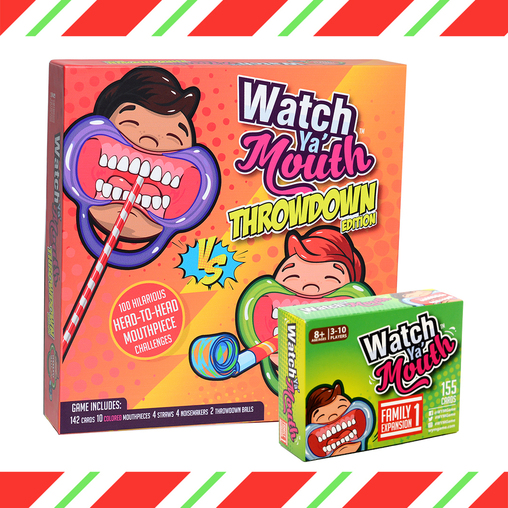 Watch Ya' Mouth Throwdown Edition is the evolution of the original, wildly popular, hilarious Watch Ya' Mouth game. Rather than just speak phrases, players now go head-to-head with hilarious and challenging tasks - while wearing mouthpieces. Throwdown Edition takes competition - and laughter - to the next level and builds on the multigenerational gaming phenomena.
Throwdown Edition has already been Awarded Top Holiday Toy of 2017 by Toy Insider & selected for the 2017 Amazon Holiday Toy List.
I first heard about the original Watch Ya' Mouth around this time last year. It seemed like that was the hot family game at the time... it was challenging and fun, and sure to have the whole family in giggles as they tried to understand what was being said. No wonder it became such a favorite.
The Throwdown Edition takes it to the next level. It uses the same recognizable mouthpiece, but incorporates more physical challenges that are sure to have the whole family falling over in laughter. I love that this truly is a game for everyone, young and old. No one is safe from the crazy challenges! This is one game that I know is going to create many lasting memories for years to come... just take a look:
Ready to start the fun with your family? You can take15% off with Coupon Code
15THROWDOWN
Head on over to buy yours now:
http://amzn.to/2i6NKwG